Update: See subsequent post for revised times Dave Jackowicz will be at school.
---
Apologies for the delay in getting this out. Your webmaster has been out of town, but the same information was distributed via the Charms system so most of you will have already received it a few days ago. — David Furin
Malley's Candy
Dave Jackowicz distributed a box of Malley's candy to each of the students who wanted one on Thursday, December 7. Each box contains 36 bars (9 of each flavor).
He will be at the school weekly or as necessary to distribute candy and/or collect money. This week he will be at the school on TUESDAY, December 12 Monday, Wednesday and Friday this week (December 11, 13 and 15) after school in the Music Hall.
If you would like to pick up more than one box of candy at a time, please let us know. If you want specific flavors, please let us know. The flavors available are Almond, Pretzel, Crunch and Dark Chocolate Pretzel. You can leave a message on our home phone number (440-734-0348).
The cost for a full box of candy is $36. Please keep in mind that once a box of candy is picked up, it cannot be returned. If you wish to pay for the candy via check, please make the check payable to NOBOB. If you are going to be returning cash, please put the cash in an envelope labeled with your student's name. NOBOB is not responsible for any candy after the student picks it up.
At this time, candy CANNOT BE SOLD AT SCHOOL!!!! The school assigns each group a designated sale date. The Band/Orchestra selling window is February 5 to February 15. Unfortunately, this is after the last payment is due for the trip.
Jose Madrid Salsa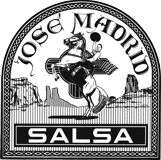 A copy of the Jose Madrid Salsa order form is on the website Forms Page, and at this link. A description of the various flavors is also included.
In order to guarantee delivery by Christmas, the forms and payment must be turned in by TUESDAY, December 12. Payment must be made when ordering the salsa. Please return the order form and payment in an envelope labeled with your student's name. Checks can be made payable to NOBOB.
Profits
All profits from both the Candy ($.50/bar) and Salsa ($3/jar) sales will be directed to the student seller's account and can be used for the Chicago trip.
Currently, these fundraising opportunities are only available to those students in Orchestra or Wind Ensemble. The fundraising is designed to provide opportunities to raise funds to offset the costs of the Spring trip to Chicago.
If you have any other ideas for fundraising, please provide us with details.
Mary Lynn Jackowicz
on behalf of
North Olmsted Band & Orchestra Boosters