Mr. Erik Kalish — Director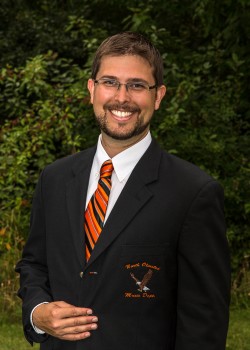 Erik Kalish began in 2013 as the Head Band Director and Orchestra Director of North Olmsted High School. He also assists at North Olmsted Middle School with the Bands and Orchestras. Erik is originally from Hudson, Ohio. He received his BM in Music Education from The University of Dayton, Dayton Ohio in 2004. After graduation, he taught High school and Middle School Band and Choir in the Morgan Hill Unified School District in Morgan Hill, California (a bedroom community for the Silicon Valley) After seven years in California, Erik then left to pursue his masters degree. In May 2013, Erik received a Masters of Music Performance in Instrumental Conducting from SUNY Fredonia, in Fredonia NY. His primary instrument is Trumpet and has performed professionally in orchestras, chamber ensembles, and as a soloist. He has studied conducting with Dr. Paula Holcomb, H. Robert Reynolds, Dr. Mallory Thompson, Craig Kirchhoff, Steven Davis, Dr. Rick Fleming, and Dr. Patrick Reynolds. He currently lives in Olmsted Township with his wife Ashley and his children Colin and Hallie.
Mrs. Megan Kovach — Assistant Director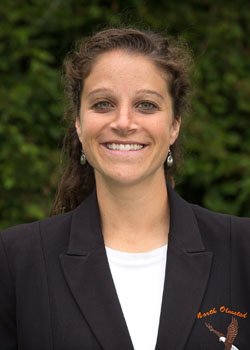 Megan Kovach has taught in the North Olmsted City School District as the Middle School Band and Orchestra Director since Fall of 2014. She also assists at North Olmsted High School with the Bands and Orchestras. Megan is originally from Oneonta, NY. She received her BM in Music Education from Bowling Green State University, Bowling Green, Ohio in 2007. She went on to teach Middle School Band and 7th grade general music for four years at Oneonta Middle School, in Oneonta, NY. Megan then returned to Bowling Green State University in pursuit of a Masters degree in Music Education, which she received in May 2013. Following her Masters, she taught 7th and 8th grade band and general music in the Anthony Wayne Local School District in Whitehouse, OH, and started a beginning band program at Christ the King Catholic School in Toledo, OH. Her primary instrument is Clarinet, but she also plays piano in her church praise band. Megan, with her husband, Kevin, and two children, Isaac and Levi, live in North Olmsted.

Jonathan Radwan — Drumline Instructor
Jonathan Radwan began teaching the North Olmsted High School Drumline in 2017. Prior to teaching at North Olmsted, Jonathan taught at Notre Dame College in South Euclid, Ohio from 2010 through 2015 teaching the drumline for the marching band as well as filling the role of Snare Technician for the Notre Dame Indoor Percussion Ensemble (NDIPE) competing in WGI (Winter Guard International) first in Independent A class before being promoted to Independent Open class. While in college, he taught the Tecumseh High School Drumline in New Carlisle, Ohio and wrote the Drumline's competition show for the fall of 2006 competing in OMEA competitions. Jonathan graduated from University of Dayton after majoring in Computer Information Systems and performing in several music ensembles including the Pride of Dayton Marching Band, the Flyer Pep Band, the Dayton Jazz Ensemble, and many others. He marched 2 years of DCI (Drum Corps International) with the Capital Regiment Drum & Bugle Corps out of Columbus, Ohio in the Snare line. From 2014 through 2019, Jonathan was a performing member of the Cleveland Browns Drumline as a Snare drummer performing at all home games and traveling with the Drumline to London to perform at the Browns "home" game in 2017. He is currently a Flag Runner at all Browns home games. Jonathan is also a Principal Consultant at Hyland Software focusing on the application database. He likes to run marathons and has completed over 25 full marathons in over 22 different states with a goal of completing a full marathon in each of the 50 states. He and his wife Kelly reside in Avon Lake, Ohio with their children Jovie, JJ, and Jocelyn.
Ms. Gina Caroscio — Eaglet Kickline Coach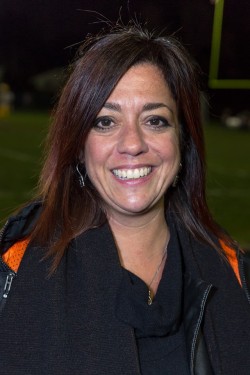 Ms. Caroscio began coaching the NOHS Eaglets in 1993. She is a Social Studies teacher at NOMS, the choreographer for the NOHS Musicals since 2016 and also the coach for the NOHS Dance Team.
She is a graduate of Bowling Green State University and a proud member of the NOHS graduating class of 1984 and a former Eaglet.
Kim Ocepek — Eaglet Flag Team Coach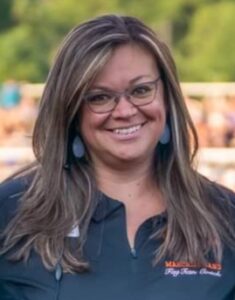 Kim is a veteran of the Eaglet Flag Team and is a founding member of the line from 2002. That tradition was continued in 2006 while Kim attended Baldwin-Wallace College and became a founding member of the Marching Yellow Jackets auxiliary teams. Kim was a competitive baton twirler in her day and has grown to truly love the sports of twirling baton and spinning flag. From 2007 – 2016, Kim was Adviser of the Jackettes Color Guard and Majorette Line at Baldwin Wallace University and also coached the Cuyahoga Heights Flag Line from 2012 – 2014. Kim is excited to be apart of the North Olmsted Marching Band Staff and always looks forward to our marching band season.