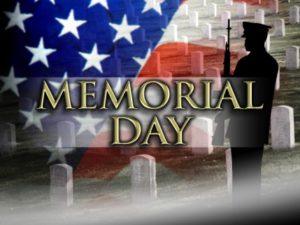 The Band will be marching in the North Olmsted Memorial Day Parade.
We need a couple of people to make sure that the Band has water at City Hall (by 9:30 a.m.) prior to the Parade kick-off and at the Community Park (by 10:30 a.m.) for after the Parade.
The water is available at the High School. We need individuals to pick it up that morning and get it delivered to the appropriate locations, making sure that it is our Band members who partake. Any leftover water needs to be delivered back to the High School.
Band Inspection is at the High School at 9:00 a.m.
The schedule for the Parade is:
All units and Color Guard will muster at North Olmsted Police Department at 10:20, with the parade beginning shortly thereafter.
The parade is expected to arrive at North Olmsted park shortly before

11 a.m.

, followed by a ceremony at approximately 11:05 a.m.
In the event of rain, the ceremony will be moved to the Community Cabin, 28114 Lorain Rd.
If you are able to help, please sign up here. If the link doesn't work, please copy and paste the following into your internet browser:
www.SignUpGenius.com/go/9040D45ACA72EA64-memorial
Thank you for your continued support of the Band!!!